This page needs cleanup.
This page or section needs maintenance. You can help by improving the page's grammar and sentence structure or fix the article layout to bring it to a higher standard of article quality.
Remove this template when finished.
The Ankylosaur is a shielded and armored tank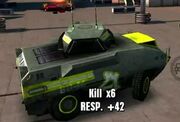 . It is a tank suitable for two people and very resistant to bullets and explosions, but its speed is slow. It has a built in cannon, capable of moving 360 °, to shoot the targets and destroy them immediately. It is one of the most durable and powerful vehicles of the
Gangstar
series. It is capable of crushing vehicles if it passes over them. It is found mainly in the
Military Ship
, guarded by soldiers and also appears if the player gets a level 5 wanted level.
Gangstar Rio: City of Saints
In this game, you have two options, the first is a tank with green and yellow teeth painted on the front section, linking it to a predator. The second variant of the tank is green.
Trivia
The tank is the name of a prehistoric dinosaur, the Ankylosaurus possibly because it so big and strong that it was based on this dinosaur.
It is the strongest vehicle in the Gangstar series, other three are Jackalope, Tenderizer & Ballistae (Seen Crushing Two Police Cars In Gangstar Vegas Second Mission "Busting Through"), Which Are Only Vehicles In Gangstar Series That Can Crush Vehicles.
This Is Second Vehicle In Gangstar Rio That Have An Unique Color (Assasinos "A" Livery). After Cackler.
Community content is available under
CC-BY-SA
unless otherwise noted.