Description
The Eunomia is a 4-door law enforcement sedan featured in Gangstar Vegas and Gangstar New Orleans. Its The Police Version Of Taxi & W5-GSTR (GV) & Kearsarge LS (GNO).
It's acceleration and top speed are very good for it's class, it has better performance than it's civilian counterparts (the Taxi and W5-GSTR).
It spawn everywhere in Vegas and spawn also when the player gain wanted level.
It Costs 165 Diamonds In Shop.
Trivia
In Gangstar Vegas it's based on the W5-GSTR while in New Orleans it's based on the Kearsarge LS.
License plate read "LVPD" (in GV).
The new model have a different "Police" font on the sides and doesn't feature the steelies rims anymore, the lightbar is just blue and red, while the older model have a blue-white-red-red-white-blue pattern lightbar instead.
The Eunomia in GNO is operated by the New Orleans Police Departement.
The Eunomia in GV is operated by the Las Vegas Metropolitan Police Departement.
It's unknown why Gameloft decided to re-use the Eunomia name on a Kearsarge LS based police cruiser instead of re-using the W5-GSTR based one.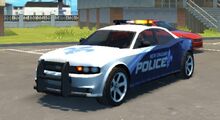 Community content is available under
CC-BY-SA
unless otherwise noted.