This article or section is incomplete.
Some information is missing regarding to the subject. Help Gangstar Wiki by finishing the article. Remove this template when finished.
Gangstar: West Coast Hustle
Name:
Gangstar: West Coast Hustle
Developer(s):
Gameloft
Publisher(s):
Gameloft
Release date:
August 20, 2009


September 28, 2009 (Free version)
June 10, 2010 (HD version)

Platform(s):
iOS
WebOS
Android
Genre:
Action-adventure (primarily from the third-person perspective)
Protagonist:
Pedro
Chronology
Series:
Gangstar
Preceded by:
Gangstar 2: Kings of L.A.
Followed by:
Gangstar: Samurai
Gangstar: West Coast Hustle is an open-world action-adventure video game published by Gameloft and developed by at least one of its subsidiaries; it is the third installment in the Gangstar series and was released for Android and iOS devices in 2009. A month after release, a free version was released. In 2010, the HD version was released for iPad and possibly for Android.
The game is set in a miniature Los Angeles, and is a three-dimensional (3D) version of the previous installment Gangstar 2: Kings of L.A., thus sharing pretty much the same storyline and same protagonist, Pedro.
Synopsis
Publisher's summary
"Move to the West Coast and immerse yourself in L.A. gang life with Gangstar. Explore more realistic environments than ever for a unique gameplay experience. Complete 50 different missions that combine the best of action games and driving games."
Summary
Having escaped a Mexican prison, the basis of the storyline is to do jobs to earn money, while gaining new friends.
Plot
Pedro and Juan have just escaped a Mexican prison and gotten to L.A. Pedro and Juan drive to a phone booth to contact L.C., Juan's old friend but an unnamed thug gets Juan angry when he tells Juan to "find one of your own phones". Pedro beats the unnamed thug up to death and Juan contacts Tia Carla to find out where L.C. lives. After finding out where he lives, Juan and Pedro go to his house in Calle Ventura where they meet with L.C.. L.C. tells them to go pick up his son, Lil' T because the Los Locos Muertos stole his car. Pedro and Juan pick up Lil'T, they then go to the nearby gun shop and get Pedro to buy a gun to protect himself. When they get back, L.C. tells them to "go play for a while" and to come back soon. L.C. also remarks that the Los Locos Muertos are becoming a problem and that he should warn El Toro about it before something happens.
Gameplay
The game is an open sandbox/mission-based one that uses a 5-star wanted system. In the game, you can earn achievements by doing certain things.
Wanted system
After committing crimes in Gangstar: West Coast Hustle, the player acquires a wanted level in the form of badges. Unlike the newer games, no special vehicles spawn when attaining high wanted levels, the only thing that changes is the amount of police officers that spawn. To get rid of this wanted level, they either need to collect stars scattered around the map or they can "corrupt" the police by bribing them through the services option in the pause menu. The player can attain a maximum of 5 badges. If the player is arrested, the player will be initially fined $100. The fine rises for each arrest.
Combat
The combat is pretty straightforward as the player only needs to press the attack button several times to win a fight, but they can only attack one person at a time. Sometimes, characters holding guns will not drop their guns when they are killed. You can either kill certain NPCs to get weapons or buy the weapons in a Bullet Time! shop.
Driving
The vehicles are handled either by having to physically move the device left and right or by steering wheel and a forward and brake pedal. You also have the ability to drift. If your vehicle gets damaged, you can go to Fix-O-Matic to get your car fixed. You can go to Dale Deal to buy cars or you can just carjack cars.
One version of Kings of L.A. starts with Pedro and Juan crossing the border in Tijuana, Mexico while West Coast Hustle starts in L.A.
Kings of L.A. refers to L.C.'s son as Little T whilst West Coast Hustle refers to him as Lil' T.
In West Coast Hustle, when Juan hears L.C. mention the Los Locos Muertos, he laughs and mocks L.C. for becoming "thugged out"; Pedro has to be the one to agree to L.C.'s offer, while in Kings of L.A., Juan remarks that L.C. speaks like "those gangsters on TV" and agrees to help.
West Coast Hustle has fewer NPC varieties than Kings of L.A.
The ability to buy, sell and own drugs(Candies) was removed in West Coast Hustle.
In Kings of L.A., L.C. and Juan are cousins while in West Coast Hustle, they are merely "old friends".
Many names of missions and dialogue have been changed in West Coast Hustle to include more slang and other things.
Differences between the regular and HD version
The regular version uses a static menu, while the HD version has a live background.
The regular version is rendered at a very small resolution while the HD version has the same resolution as most iOS/Android Gangstar games.
The regular version uses lower quality textures while the HD version uses higher-quality and enlarged textures.
The HD version features extra credits.
The HD version has more lighting than the regular version. (cars reflecting light, sunlight coming down from the sky, etc.)
The regular version uses a different "loading" graphic. (the regular version's loading graphic depicts a black liquid slowly going down the screen as the game loads)
The HD version has better graphics.
Weapons
The following is a list of the weapons featured in the game, which are actually the same as the previous renditions, save for the inclusion of the grenade launcher:
Vehicles
Characters
Missions
Side Missions
A list of optional side missions
Radio stations
Gallery
Trailers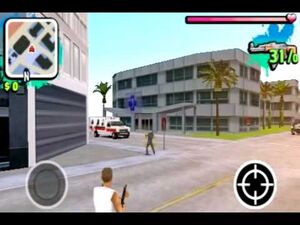 Trivia
This game was originally rated 12+ but Apple lifted the content rating to 17+, possibly due to tobacco references. This also has also happened to Gangstar: Miami Vindication's 3D version.
This is the first game In the Gangstar series to be 3D.
One could email this game from Gameloft's website but the download link to the game is dead.
If the device revolution is big enough, the regular version of Gangstar: West Coast Hustle will be near unplayable.
Multiplayer was probably planned to be added as suggested by this poll. Unfortunately this did not happen.
There is a Bada version for Gangstar: West Coast Hustle; the links on the page are dead but it can still be downloaded from here. This is probably just an unofficial port.
After getting arrested for the first time, L.C. will comment on how big the fines are for getting arrested. L.C. will do the same after dying for the first time.
Sources
External links
Community content is available under
CC-BY-SA
unless otherwise noted.