The Mi'kmaq (also spelled as Mikmak) is a full-size [] (SUV) featured in Gangstar: New Orleans and Gangstar Vegas. It is based on the GMC Yukon Denali  and the jeep  Grand Cherokee.
Description
It is the most common vehicle in Gangstar Vegas (though it only spawns in the Strip and North Vegas, as it is mostly based on the Yukon Denali, which is a real-life expensive SUV).
It is a durable vehicle when it comes to resistance from shotguns and submachine guns (SMGs), but less with machine guns. Its performance is good for its class (despite being less powerful than the Bullhead).
Spawn points
Village Area
Surburban Area
Rich Area
(It appears in many main story missions (in wich it is used as the gang car driven by the Veliano Mafia (the henchmen)), along with the Rampage side-missions. It is also driven by other gangsters.)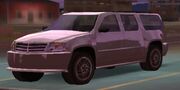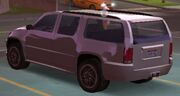 Variants
Peltast (Gangstar Vegas and Gangstar: New Orleans, police version)
Hoplite (Gangstar New Orleans, sheriff version)
Limited Peltast (Gangstar Vegas, limited police version)
Trivia
In Gangstar Vegas, outside of free roaming, it can be seen used in missions by the Veliano Mafia and in side-missions (such as Rampage) used by other gangsters.
Its lcense plate reads "ZEF3451" in Gangstar Vegas and "" in Gangstar: New Orleans.
The Peltast only appears when the player gains a 2- or 3-star wanted level (in Gangstar Vegas and Gangstar New Orleans).
The W5-GSTR, Peccary, Hi-Roller, Mikmak, Scoundrel and Tawny 40o are the gang motorcycle (in the W5-GSTR's case) and gang cars in Gangstar Vegas.

It It shares the same engine sound as Bearer, Blaze, Slicer Sport and Z.U.V.; coincidentally, it is a smooth engine sounds. It Sounds like a hybrid engine sound when starting up and while driven at its top speed.
Community content is available under
CC-BY-SA
unless otherwise noted.