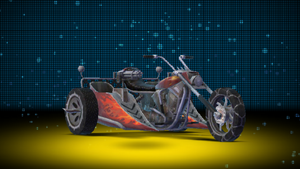 The Post-Achoppalyptic ride is a Vehicle available in Gangstar Vegas. It is a 3 wheel "Tricycle" made with a Mad Max theme. In game it is Of medium health but can get to 159 kmph which is around 105 mph. It costs 2,070,900 and Can deliver for 35,200 being the cheapest Mad Max Themed Vehicles not requiring VIP or diamonds.However,a Post-Achoppalyptic level 3 requires bronze VIP level
Combat
This Vehicle Sports 2 High-Power Miniguns tha Autolock to Any target nearby and Have infinite Ammo like most Vehicle weapons. The Vehicle also Sports Dual Armor on fromt that can serve as a Ramming Device killing Civilians and Enemies With ease.
Community content is available under
CC-BY-SA
unless otherwise noted.