This page needs cleanup.
This page or section needs maintenance. You can help by improving the page's grammar and sentence structure or fix the article layout to bring it to a higher standard of article quality.
Remove this template when finished.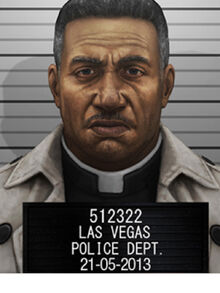 Winston Goodman is the secondary antagonist in Gangstar Vegas. He is a mayoral candidate and is friends with Frank Veliano.
During one of Goodman's campaigns, Vera instructs Jason to destroy four of Goodman's posters with grenades to send him a message. Goodman's role is significantly larger in the second chapter, where Jason needs to steal a boat for him from a businessman. Later, he instructs Jason to take out some troublesome Union workers, participate in a charitable boat race for him, and protect one of his accountants that is conducting a deal using a Sniper Rifle.
In the fifth chapter, Jason rescues Benny, and Karen manages to get ahold of some pictures that could destroy Goodman's campaign due to this. Jason uses these to blackmail him into exposing Frank. When Jason chases Winston's car, he is stopped by a police barricade and chases Winston Goodman around the Hoover Dam until Karen and E-Man trap him at the center of the Dam. Jason forces him to surrunder after beating him up. With no choice, he informs the authorities about Frank, forcing the later to flee the city, only to be killed by Jason.
Community content is available under
CC-BY-SA
unless otherwise noted.